chasovschik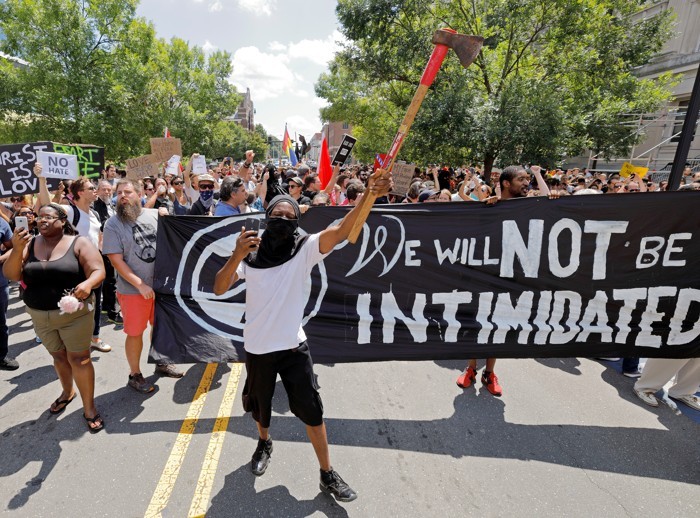 При разговорах о том, что левые отвечают насилием на насилие (это сейчас началось; до сих пор левое насилие вообще оставалось как бы невидимым, многие и до сих пор не в курсе) полезно помнить, что именно левые считают насилием.
"When you look at this grave and dangerous threat — and the violence it has already caused — is it more dangerous to do nothing and tolerate it, or should we confront it?" Frank Sabaté said. "Their existence itself is violent and dangerous, so I don't think using force or violence to oppose them is unethical."
Чье существование?
The closest thing antifa may have to a guiding principle is that ideologies it identifies as fascistic or based on a belief in genetic inferiority cannot be reasoned with and must be physically resisted.
А дальше, как хорошо известно из истории, уже несложно: кого угодно можно при нужде identify as fascistic. Белые капюшоны и флаги со свастиками для этого не нужны совершенно. Фашистами можно объявить Майло Яннопулоса или Чарльза Мюррея, – и заодно слегка свернуть шею левой профессорше, которая должна была с Мюрреем дискутировать. Можно записать в фашисты Буша. Дершовица. Трампа. Полицию. Весь Фокс Ньюс в полном составе. Республиканцев целиком. Съезд WTO или заседание двадцатки. Капитализм. Западную цивилизацию вообще. И никакой ненависти, как гласит плакатик слева от топора на фотографии. Just business; раз это все фашизм, на существование этого всего необходимо отвечать насилием, как же иначе. А можно даже и фашизм убрать для краткости формулы. Написать просто "капитализм – это насилие", "частная собственность – это насилие", и все, можно со спокойной совестью отвечать насилием на частную собственность.
Самая же странное – это то, что вот это все для кого-то, оказывается, новость.
Mirrored from Gears and Springs.